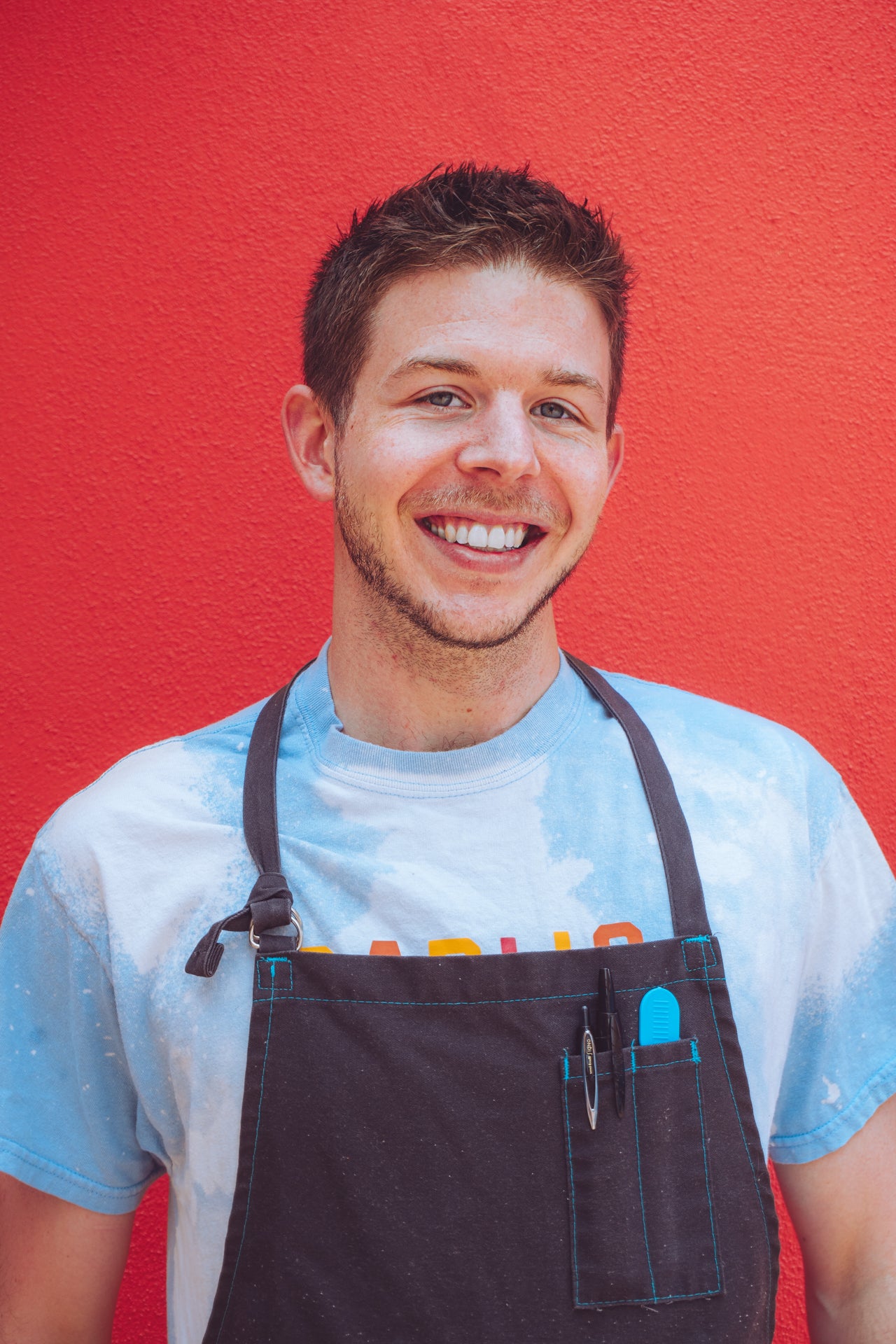 Chef Brett Shaw was born and raised in St Louis, Missouri. From an early age, Brett can remember deeply connecting to music. In one sense, it was an escape, a portal into the mood and story of another's mind. It was his first taste of what it meant to use a tool, honing it over time with the intention of a craft to express oneself. Both personally and professionally, Brett is motivated by food, always searching for the next great bite. He's on a mission to try every soup dumpling in San Francisco. Communication and storytelling are big passions for Brett. Even before studying literature in college, he'd been a reader. The majority of Shaw's childhood was spent outdoors. In the Midwest, it seems everyone is a hunter, fisherman, gardener, or explorer of some sort. An appreciation and responsibility towards nature have always been impressed upon Brett, to this day, he cherishes every chance he gets to spend in the beautiful California wilderness. On his days off, he explores new places. Whether on a hike or a meal, he's always down to discover something unexpected.
Brett is a team guy. He feels incredibly lucky to spend his days surrounded by people who, like himself, are passionate about providing delicious food and drink. This speaks to restaurants and how it finds balance to push each other to improve. The ever-shifting dynamic of a restaurant team is something that takes constant care, pivoting, and attention. 
Shaw is driven to raise the status of his career in hospitality from a larger societal perspective. He feels working in restaurants is one of the best jobs around. It's invigorating, and there's tons of opportunity for growth. The skills learned apply to any field, but due to history, circumstances, and perceived lack of esteem, the work is often looked down upon as merely a stepping stone. Brett is passionate about creating a model that can show others they can feel validated and become an exemplary community member through a hospitality career. Chef Brett believes restaurants have the potential to become bastions for their communities. The days of being politically neutral are over. Restaurants have the power to deliver more than just escapism; they're better seen as carriers of stories and values because of the people who make them have stories and values. 
If Brett was not cooking, he'd still be fascinated with restaurant life. He'd try his hand at becoming a halfway decent designer of restaurant spaces. Brett comes from a blue-collar family of builders and laborers. He was raised to appreciate hard work and the value of the tangible fruits of his labor. He thinks it would be a pretty beautiful full circle if he ventured into the field of architecture and design. Especially after enduring all the years of griping about how architects and engineers design blueprints that don't work in reality. Brett would like to rewrite that narrative to appease his grumpy pops.
Hobbies are important when in a high-paced environment. A few of Brett's are practicing steady breathing, stretching, and keeping things clean. These sound mundane, but being consistent with them unlocks a whole world of positive vibes. Another favorite hobby is playing guitar. He has a nylon string classical guitar which feels so good and gentle to strum. Ripping a strong E minor chord is like a baseline vibration for his soul. Brett's future hobby, he'd like to get really, really good at making canelé. It's his favorite pastry, and it's difficult to perfect. He enjoys finding a problem that doesn't have an immediate solution and chipping away to better its outcome.
The proudest moment in Brett's career came when he finally realized he already held the tools to use his platform, his privilege, and his skills for the betterment of others. During the Covid quarantine, he and his wife, Aimee Arcilla, developed a Filipino pop-up called Hunnybee. Within a few months, they reached an inflection point, something big needed to change, or they'd have to stop cooking or move out of SF. Then, the killing of George Floyd happened. It felt like the whole world was falling apart. Amidst their own personal reckoning with racism and what part they played in the bigger picture, they were overwhelmed. Continuing the pop-up felt pointless. This is when they decided to pivot their business to a donation-based effort. Quickly raised $3500 for The NAACP Legal Defense Fund. They gained speed raising money for racial justice organizations such as; Planting Justice, Lawyers Committee for Civil Rights of the SFBA, Larkin Street Youth, and The Trevor Project, to name a few. From that point, everything changed -- One day, they were in the streets protesting, and the next, they were rolling lumpia in their home kitchen. This helped Brett to discover a profound motivation, and keep pushing to grow their small business. He felt proud they were able to create a convergence of their skills and the social causes they cared deeply about. The decision to give back and engage with their community was a game changer. 
Brett likes leaning into something that scares him or makes him uncomfortable. He feels joy when he comes out the other side stronger for having tried. Joy is not instant gratification but a time-released effect earned through hard work. Also, listening, he feels, is incredibly important; "You can learn a lot more when your mouth is closed. And when it is time to speak, make sure you're asking the right questions." These attributes lend an incredible gift to his success as a Chef.
Shaw has great admiration for Ann Bognar of Nippon Tei in St. Louis. She was his first mentor. On a more personal level, she was like a second mother to him and all the other misfit kids in town looking for a paycheck. Ann's ability to lead a team with such poise, grace, and strength has always inspired Brett. Being an immigrant and a mother, Chef Ann successfully opened an amazing restaurant that has served their community for over fifteen years. Most nights, people come through her doors with a craving for her delicious food, but it's Chef Bognar's unique energy and presence they are seeking.
A few fun facts, if Brett could have dinner with anyone, past or present, he'd choose Joe Strummer of The Clash. He'd like to soak up his vibe and ask about his process of creating amazing art and music and how he stayed ahead of the times while never shying away from socio-political commentary. If Brett were not living in SF, he'd be in Tokyo. That city has a special place in his heart. After the first time he visited, he felt he'd return over and over throughout his life. However, his top destination for travel would be The Himalayas within Nepal and Bhutan. To behold a great big mountain sparks something fiery inside of him. Brett loves being in the mountains. It brings his mind into the present with a swelling of fear, excitement, and awesomeness. Brett's favorite snack is popcorn. Favorite dish is the pork tonkatsu set from Tonki in Tokyo, Japan (my death row meal). His favorite adult beverage would have to be a slightly chilled glass of Marcel Lapierre, Morgon Beaujolais. Lastly, Brett can carry a perilous amount of things, so he doesn't have to make a second trip.
Brett is conscientious, honest, and full of ardor. He lives by the motto, "Measure twice. Cut once. 
The more I see, the less I know."