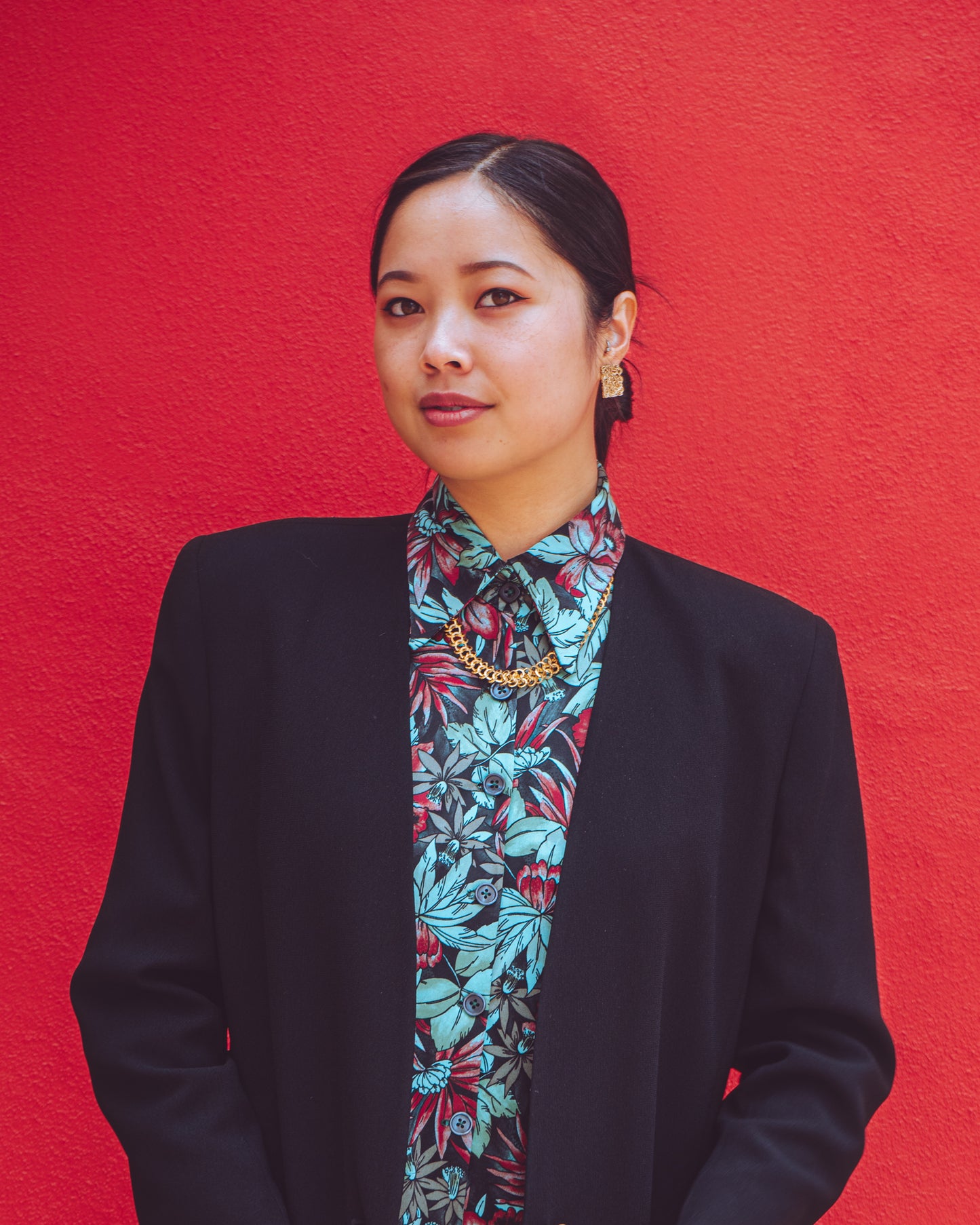 Aimee was born and grew up in San Diego. She first visited San Francisco with her family when she was a freshman in high school. While she was crossing the Golden Gate Bridge for the first time, she immediately knew that one day she'd call SF her home. Once she returned to San Diego, she told her Dad she would eventually move to San Francisco. As promised, when it was time for her to attend college, she was off to San Francisco State. 
Aimee is deeply passionate about her Filipina heritage, which impacts her personal and professional life. Personally, she'd like to grow into a role model within the Filipino diaspora, empower and motivate others, create safe spaces to share, and be a resource for the community. Professionally, Aimee seeks a connection with the greater community of the Filipino culture. Aimee's future personal and professional passions would be to write a book that combines storytelling and heritage-driven cooking. She aspires to see the world and to create a legacy. Legacy, in the way of creating a bigger space for women creatives of color, celebrating culture on a larger scale - She's dreams of starting a club for WOC to come fully dressed in their identifying heritage garb; Vietnamese Ao Dai's, Filipino Maria Claras or Ternos, Chinese Qipaos, African Dashikis, Mexican Huipil, etc. This attire is traditionally reserved for special occasions. She would love to redefine what "tradition" means. 
A few of Aimee's proudest professional accomplishments; Becoming a "certified sommelier," though it was least about the title versus the journey to get there. She put herself under a lot of pressure in her studies to take the exam & pass in Mexico City and is very proud of that. One of her most valued accomplishments came during the Pandemic. She and her Fiance, Brett, Started a pop-up named Hunnybee. It garnered attention and interest in Filipino food & culture, impacting others by sharing words, stories, and genuine feelings. Hunnybee was a donation-based organization raising money for nonprofits in need during one of the most trying times in our history. Looking to the future of the restaurant industry, Aimee is excited and inspired to see a better version of hospitality. She is looking forward to seeing our core values at play what we as a collective industry can achieve to better our communities. With this impetus, we can coexist, love, and appreciate what it is to be human and bequeath wholesome thinking as our legacy. Aimee's industry mentors are Charlotte Randolph, Rica Sunga-Kwan, Brenae Royal, Ashtin Berry, Nicole Ponseca, Heather Murphy, Sarah Lau, April Storm, Ravi Kapur, Jeff Hanak.
If Aimee were not working in the restaurant community, she'd likely be in the nonprofit world or immersed in the wine industry. She'd focus on a women-led wine, building programs that highlight women producing sustainably.
Some future changes Aimee would like to be involved with are a Feminine Economy - changing our views on capitalism, looking deeper, living by values where money should follow. She'd like to see an overhaul of mass incarceration & prison reform - rehabilitation alternatives, restorative justice, and society working towards a police force that serves the people, where money is redirected to services to help marginalized black and brown communities. Funds need to be reallocated. And, of course, a glaring issue we are all concerned about, climate change and sustainability.
While Aimee's top travel destination is The Northern Philippines, she'd love to learn more about indigenous tribes of the PI and come to a better understanding of life pre-colonization/imperialism. However, if she were not living in SF, she would be putting down roots in New York City or Tokyo.
If you were to ask Aimee if she could choose one person in the entire world, past or present, she could have dinner with. She'd undoubtedly tell you, her Mom. She did not get a chance to know her Mom in her adult life. Aimee lost her Mother at age 13, really 12, due to her decline. She'd love to have the opportunity to know her. She wants her Mom to know how similar they are. From the stories Aimee has heard, her Mom was always the life of the party and was never afraid to speak her mind. She would love nothing more than to experience her energy while throwing down on some fantastic Filipino food.
Fun facts, hobbies, and routines that help keep Aimee's joy and excitement alive are podcasts about anything and everything. True crime and social justice are her favorites. Aimee loves tending to her plant babies, scavenging local thrift stores, estate sales, book clubs, walking around the marvelous city of San Francisco. Things that insight joy for Aimee are living in a culturally rich mecca of innovation and change, Tomales Bay, cold Beaujolais, arranging flowers, being with her husband, Brett. She practices the following routines to keep her joy consistent; learning through listening, reflecting, waking up early, talking out anxieties, and saving time for herself and only herself.
Three words that represent Aimee; Resilient, Empathetic, Visionary. 
Mottos she lives by; A poor craftsperson blames their tools & There is freedom in uncertainty.